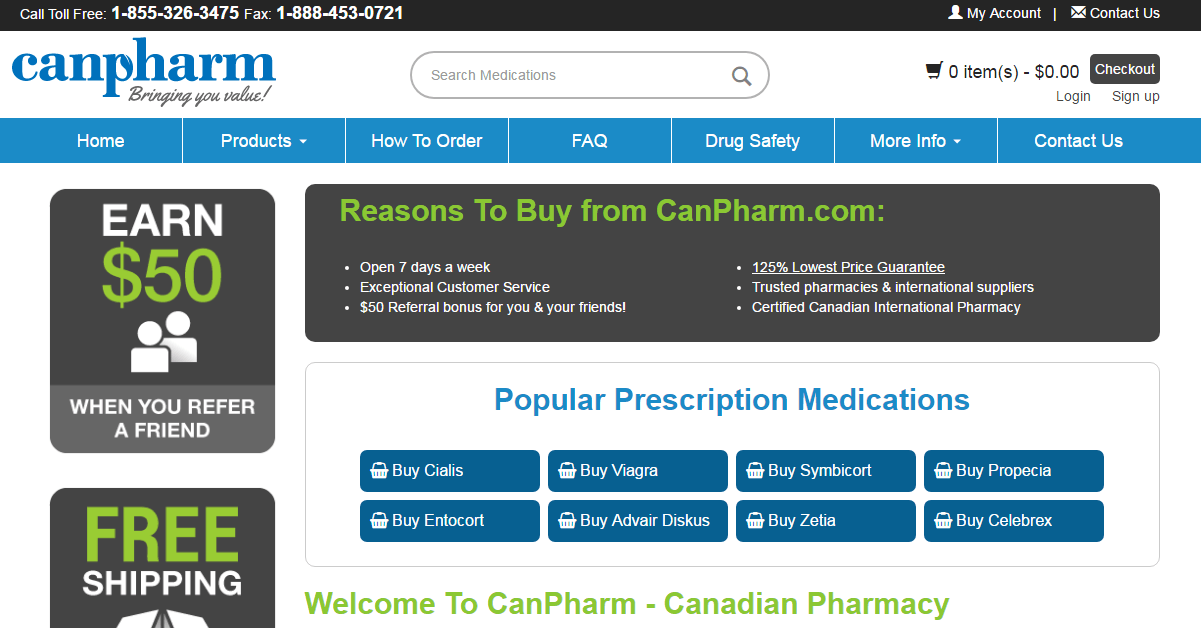 Canpharm.com is an internet-based Canadian pharmacy offering low-cost prescription drugs, over the counter medicines, and pet products. It is a licensed pharmacy accredited by the Canadian International Pharmacy Association (CIPA). The information if the drugs are licensed by the FDA and from which countries they source their products could not be retrieved. Canpharm sells a broad variety of medicines. There are a lot of prescription medications from the pharmacy that includes Cialis, Viagra, Symbicort, Entocort, Advair Diskus, Zetia, Celebrex, Qualaquin, Spiriva, Flovent Inhaler, Premarin, Cymbalta, Abilify, Asacol, and Flomax. On the other hand, some of the best-selling over the counter drugs are Dristan nasal, Nicorette gum, Preparation H, Otrivin, Ezo denture, Lozenges, Anthelios, and Senokot. The cost of their generic brands are a bit pricy compared to other online stores. For example, the popular drug Viagra which is used to treat erectile dysfunction in men can only be purchased for as cheap as $0.6 USD from other virtual drugstores. However, this drug costs $5.6 USD from CanPharm. A doctor's prescription is required for all prescription medications in the United States. The original copy must be submitted through FAX in order for the pharmacy to process your transaction. You are allowed to fill a 3 month worth of drugs per transaction. However, if your physician wrote on your prescription that you are required to buy more than the 90 days, the pharmacy will still fill the order.
There is no information from the website regarding the mode of payments that the pharmacy currently accepts. However, I assume that just like other online stores, they accept credit cards like VISA and MasterCard. CanPharm only delivers within the United States. Free shipping is offered for orders more than $100 USD. A flat rate of $5 USD shall be billed for orders below $100 USD. All packages normally arrive within 8012 business days.
Current pharmacy guidelines do not allow medications to be returned due to their properties. However, if you are not satisfied with the product or if you happen to receive a damaged/defective package, you are advised to contact the customer support department within 30 days for a possible refund and disposition.
The customer support team is available 7 days a week from 8 am to midnight EST through e-mail or phone. Their toll-free number is 1-855-326-3475.
Canpharm.com Reviews
A customer review from resellerrtaings.com was extracted about CanPharm and it was in favor of the online store.
Pinky89 gave 5 out of 5 stars rating for the pharmacy because of the "great service" and "low prices". The veterinarian recommended the pharmacy to her since her pet got injured a few years ago. The cost of pet medicines was really high but she was very pleased how CanPharm was able to offer the same medicines at a lower and more affordable price. She has no complaints with the service and said that this pharmacy is great for people who don't have a health care insurance.
Canpharm.com Reviews 2017
More information was gathered from legitscript.com and scamadviser.com to check for the quality of service that this pharmacy is providing and to validate the safety and trust issues of the website that they are using. Results were a bit unsatisfactory.
Legitscript.com has named this pharmacy as an Unapproved Pharmacy. This entails that the pharmacy lacks vital information that could be used by LegitScript to validate its safety and trust ratings. Hence, this website could not be trusted especially with our personal information. The data might be compromised and it did not follow the criteria set by LegitScript to be a trusted website.
On the other hand, scamadviser.com has threat listed the website used by CanPharm. The reallocation or the owner country of the website is being hidden but most traffic is in Ireland. This is a bit confusing because CanPharm is supposed to be located in British Columbia, as declared on its office address from the website, but this information says otherwise. I will not trust a business that doesn't declare its real location because it might be a potential scam. What if problems arise in the future and I would need to contact their office? If the real location wasn't declared, this website is not trustworthy.
Canpharm.com Coupon Codes
Although the prices of generic medicines that this pharmacy offers are a bit costly, they are currently giving away special promos and deals for clients.
There is an ongoing referral program in the pharmacy where you will earn $50 USD for every successful referral you've made. Moreover, free shipping is also being offered if you reached more than $100 USD on your orders. All these special offers are attractive but in order to sustain and retain their customers, the pharmacy should re-consider the list of prices they sell especially for generic brands. They must be at par with the other online stores offering the same products but at a lower cost.
Conclusion
Canpharm.com is a virtual pharmacy from British Columbia offering a wide selection of prescription, non prescription, and pet products in the market. The pharmacy is accredited by CIPA and licensed by regulatory bodies from Canada.
I am rating this online pharmacy a 3 out of 5 stars for two reasons. First, the pricing scheme they currently have needed a lot of improvement. I am not sure where they source their products or in which country they are manufactured, but there are several online pharmacies in the industries offering generic brands at much lower cost. Canpharm sells for more expensive and I think that this will not be good especially if they want to keep regular customers coming back. Second, they have been classified as an Unapproved Pharmacy and have been threat listed. Thus, the safety and trust rating of the website they use is very low.