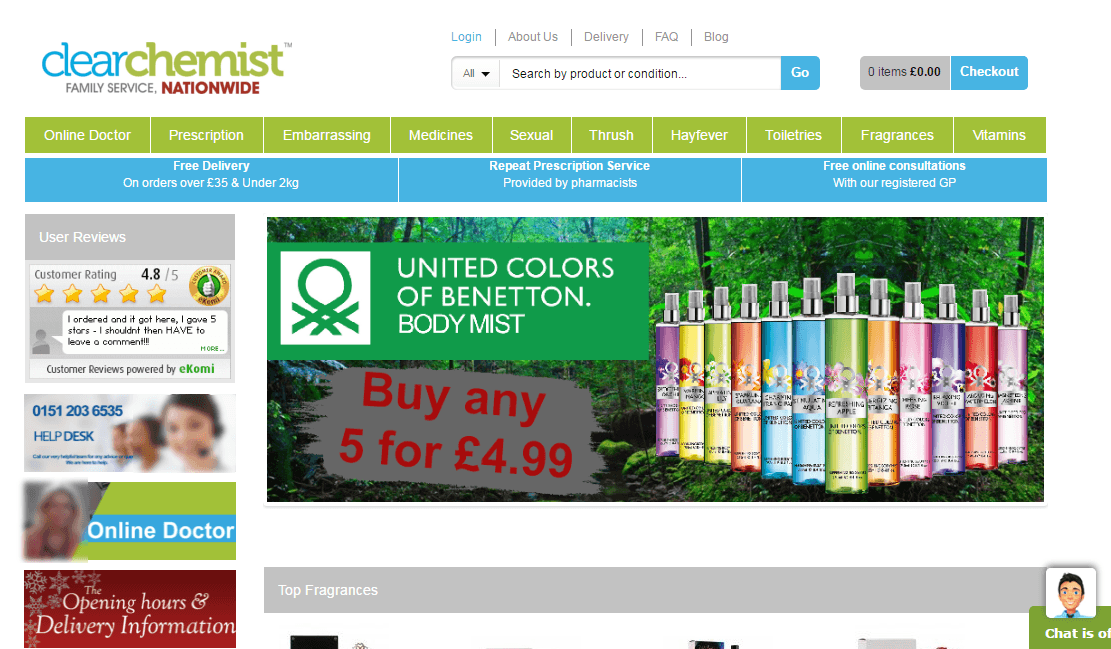 ClearChemist.co.uk is an e-provider of not only medicines but perfumes, vitamins, and other equipment related to health as well. The pharmacy is operating under the management of its chief pharmacist, Rishi Bhatia, who is also the owner of the RB Healthcare Group. This group comprises many retail pharmacies (both physical and online) capable of shipping meds worldwide. Rishi has been running such group since 2005, even though the pharmacy has been operating since 1961. The store is the UK verified pharmacy with a registration number 1123405 and is operating from Aintree.
Claiming to provide fast, efficient, and secure meds to many countries around the world, Clear Chemist is capable of dispensing both behind the counter and pharmacy only products.
Despite not explicitly saying the meds are all approved, Clear Chemist ensures only reliable products are available. Moreover, the shop is NHS registered, thus I can only assume it's compliant with the health standards and regulations.
Besides medicines, ClearChemist.co.uk is providing products for travel, fragrances, toiletries, weight loss, cosmetics, and baby-related goodies. Under Sexual Health category, I can find many different kinds of commodities including contraception, fertility and ovulation kits, premature ejaculation aids and meds for erectile dysfunction. Clear Chemist is not offering a wide variety of such treatments. Nevertheless, I'm still able to find Levitra for GBP 14.12 for a box of 4 tablets, and ED trial packs. A pack of 4 pills of each generic Cialis (10mg) and Viagra (50 mg) is dispensed for GBP 47.88.
As for payment options, Clear Chemist allows me to pay with credit cards. Each order will be charged with an extra 25 GBP if includes prescription-only medication. This is the required fee for a doctor's consultation before dispatching the meds. Clear Chemist will refund me that amount if I send a valid prescription afterward.
The shipping costs vary according to the weight of my package but won't cost me, typically, more than 5 GBP. I can have a next day special delivery for GBP 5.99. If I'm not happy with my meds, the store will negotiate with me a refund. For that, I only need to contact customer service via phone (0800 6 126 326) or email ([email protected]).
Clearchemist.co.uk Reviews
Since ClearChemist.co.uk seems quite neat so I sought to find some reviews to inspect the pharmacy properly. I was very satisfied to see reviews available on independent websites such as TrusPilot.com. However, the reviews are assimilated and not all customers share the same positive opinion.
One of the most positive reviews I gathered was written by Kim, who described Clear Chemist customer service as "excellent". She's "very happy" with her experience shopping in this e-shop.
Mr. Max says otherwise. He evaluated Clear Chemist as a 1-star pharmacy, calling it a "fraudulent website". Sadly, Mr. Max complains about not ever getting his order, adding how "impossible" it is to talk with the pharmacy.
Sharing the same opinion is Sandy who simply recommends to "avoid" Clear Chemist. Sandy believes the shop is "not worth the hassle", explaining all the main operational problems Clear Chemist seems to have. One of them is "next to zero communication" together with "no updates on shipping". The store seems to keep telling on reviews website these problems were addressed, but the results are at everyone sights.
I'm disappointed. Very unlikely I'll do my shopping at Clear Chemist.
Clearchemist.co.uk Reviews 2017
Although very diversified, ClearChemist.co.uk still has more recent and updated reviews. In fact, the store's reputation is apparently increasing as the customer satisfaction raises. Maybe during the past months, Clear Chemist was able to manage its business more efficiently.
Glos is another displeased client who purchased some items last year. The customer didn't have any "product or reply" despite emailing the store "twice".
On the contrary, fresher reviews are more complacent. Helen describes Clear Chemist as "excellent" on her first experience with the store. Clear Chemist dispatched her order on the "same day" and arrived "quickly". She'll use the e-shop again.
Konrad Johansen used Clear Chemist for "3 times" with absolutely "no problems". This customer is "very pleased" with the products and shipping. Konrad orders from Denmark and reports to receive his goodies within a week every time.
With such an improvement of Clear Chemist's performance, perhaps I can consider spending my money here. I hope the store maintains the high status of the latest reviews.
Clearchemist.co.uk Coupon Codes
To draw even more clients, the store has been running a small promotion that I immensely enjoy. ClearChemist.co.uk decided not to charge any additional fee for delivery on orders over 35 GBP. Of course, this offer had to have a limitation – only orders under 2 kg are eligible for free shipping.
I'm ok with this offer and I do believe it's an easy and fantastic way to draw new potential customers, regardless.
Conclusion
Despite customers reactions being quite mixed, ClearChemist.co.uk still seems like a much more viable store to buy my meds from than most internet pharmacies. Obviously, this store is particularly useful for UK citizens rather than US ones: not all meds can be shipped internationally.
I do believe the store has been improving during the years and is becoming a bit more effective recently. Nevertheless, I would still move with care, just because I can't completely and surely label Clear Chemist as a phenomenal pharmacy. If you are a UK resident, I'd say go for it, but start small. There are far more dangerous pharmacies to bet my money on than Clear Chemist.