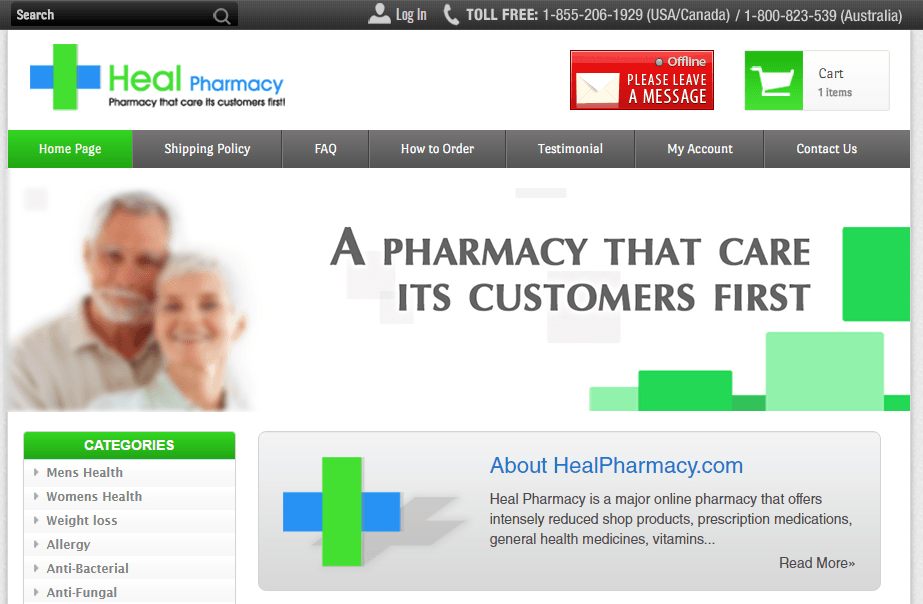 HealPharmacy.com is positing itself as an online drugstore based in Canada. The pharmacy advertises itself as one of the leaders in the world of medical drugstores. Heal Pharmacy has been supplying customers with safe generic medications at friendly prices for more than 9 years.
The meds are grouped into different medical categories according to their use. On the left-side of the site, I can see that heal Pharmacy is catering meds for men's and women's health, asthma, blood pressure management, antibiotics, arthritis, diabetes, mental illnesses, hormones, etc. I get to choose quite among a wide variety of medications.
HealPharmacy.com is mainly a provider of erectile dysfunction meds. The meds offered are the standard Indian manufactured medications, all of them with the seal of approval of the Indian-FDA. The medications are dispensed at low costs. For example, 20 pills of generic Cialis (20 mg) costs $59, whereas generic Viagra is sold for $49. A box of 30 pills of generic Levitra can be acquired for $77. Standard credit cards such as MasterCard or Visa are accepted as a form of payment.
The medicines are dispatched without the need to submit a valid doctor's prescription. The order will be packed discreetly and shipped through priority mail, registered mail, EMS, or UK&European mail. Except for EMS, which costs $25 and deliveries the meds within 7-10 days, the other shipping methods cost $10 and have a transit time of 10-21 days.
Misplaced or non-delivered orders are eligible for a full refund. If the customer prefers, HealPharmacy.com can also reship the order free of charge.
The company can be contacted by writing an email to [email protected] or by calling the number 1-855-206-1929. For faster responses, the company provides a live chat that was offline during my visit.
Healpharmacy.com Reviews
To verify HealPharmacy.com reputation, I tried to check what other customers had to say regarding the store. I wasn't able to find any reliable and authentic reviews posted on third-parties websites, making me believe Heal Pharmacy is not a popular pharmacy among consumers. The only few available reviews were available on Heal Pharmacy's official website.
Jordi James is a customer from Roseville CA that ordered generic Viagra on Heal Pharmacy. Jordi describes the store's customer service as "excellent" since they always answered "promptly" to all his queries and doubts.
From Loving NM, Josephine also shared a pleasant shopping experience with this "excellent online pharmacy". Josephine enjoys Health Pharmacy for its "great" prices and for its quick shipping.
For the first time in years, Carolyn Armstrong found an e-pharmacy capable of providing everything she needs "quickly" and with "high quality". Carolyn is another very satisfied consumer.
Reviews published on the store's website should not be taken seriously as they are not authentic, usually. Many pharmacies write their own positive reviews to lure more clients into buying from them. I won't recommend such behavior.
Healpharmacy.com Reviews 2017
Heal Pharmacy has a very low reputation and credibility, according to what I was able to ascertain using scam alert websites. Legit Scrip is a website that compares the store's policies and checks if they are following the appropriate laws or not. After a quick checkup, Legit Script concluded Heal Pharmacy is likely a rogue internet pharmacy. There's a big chance I won't ever get my goodies if I order from here.
Besides not having any reliable and authentic reviews, HealPharmacy.com is reported as unsafe and untrustworthy, based on the Scam Advisor analysis. Scam Advisor verified many different factors such as location, popularity, and domain name. Scam Advisor believes the store is based in Russia, a country strongly associated with scam online stores and other illegal activities. I mentioned above that Heal Pharmacy claims to be based in Canada, thus it was clearly lying about its true origins. Scam Advisor suggests a low trust rating, thus using another more credible store is advisable.
Healpharmacy.com Coupon Codes
Despite all these claims, the pharmacy is trying to attract more clients by advertising special discounts and offers. This a trick to convince clients they will save some money when buying from HealPharmacy.com.
Currently, Heal Pharmacy is only offering a small coupon code "SAVE10" for a 10% discount at checkout. This coupon code is limited and can't be used every time. It would be nicer to see other inviting offers than just this one. Discounts alongside with affordable high-quality meds are crucial for making an online pharmacy a success.
Conclusion
Given all the facts stated above, I believe HealPharmacy.com is a very unreliable and untrustworthy pharmacy to buy my meds from. Even though Heal Pharmacy claims to be located in Canada, a Scam Adviser report showed that it's actually located in Russia, a very high-risk country. Together with being described as a rogue internet pharmacy, I have more than enough plausible reasons to consider the store untrustworthy and likely fraudulent. I have many other solid and legit e-drugstores capable of providing meds at the same price as Heal Pharmacy.
Moreover, the only existing reviews are, possibly, not authentic since they are attached to the sellers' site. I can't use them as a solid evidence supporting Heal Pharmacy.
My guts tell me this store should be avoided as it seems like a scam. I recommend my readers to look for better alternatives than Heal Pharmacy. In summary, I give HealPharmacy.com only 1 star out of 5.