Prime-pharmacy.com is an online drug store that has been off the internet since 2014 with the last activity being the site's modification. Since I could not access the website anymore, I used the way back machine to retrieve its details. Looking at its alphabetical index the store used to offer a relatively large stock of medications used to treat allergies, skin disorders, diabetes and infertility among others. Before scrolling down to view the last offers to be presented, I skim through a list of merits that the internet shop guarantees its customers. The list of five consisted of how the store had promised to be convenient, secure to buyer's information, quality of its products and the customer civil procedures that were placed in place to facilitate the ordering process. The fifth issues being that of selling at the lowest prices which matched up or surpassed the promotions set by its competitors. Tackling the latter with an example of a Cialis tablet at the cost of $ 6.76 and Aciphex at the price of $ 1.47 while Lipitor was going for $ 2.81 I will let you be the one to judge the price. The other drugs that I get to see are Propecia, Ultram, Viagra and a few others. I'm glad to see a live chat on its website a sign that the internet store minded hearing from its clients in the fastest and most efficient means there is. I tried to seek its shipping and refund policies, but the search yielded to be unsuccessful. I'm pleased to get some hints on its acceptable means of payment, and like most stores, Prime Pharmacy used to be in the acceptance of credit cards with specifications of the Visa and the Master card. The store was so discrete about its location and its stay in the business of service. The next item that I dedicate my attention to is the 'testimonials' hoping to find the truth about the services and products offered from the consumer's point of view.
Prime-pharmacy.com Reviews
David from the USA confessed that the store used to be his 'pick 'as it offered 'great prices' that were way cheap compared to other pharmacies. As if that is not all he talked about the fast customer service that used to be provided by this shop and asks a rhetorical to explain how much of a satisfied client he used to be. Without a spot of doubt David and many others who have positive comments regarding the store feel its gap in the market.
I managed to get a single remark; my instincts tell me that there might be more in other useful websites. I conduct research on the reviews only to find that the comment has been copied from another site. It is so disheartening to realize that some vendors shamelessly resonate with replicating reviews to entice their clients. This particular report is also seen in multiple sites. I kindly request customers to be vigilant in protesting against fake reviews a simple act that can cost them to lose a great deal of their money. To get some more insights on the dimwitted idea of possessing fake reviews, I decided to consult Legitscript.com to clarify the legitimacy of the store.
Prime-pharmacy.com Reviews 2016
Prime-pharmacy had worked hard to win itself a slot in the list of rogue pharmacies. It engaged in unacceptable practices contrary to the expected pharmacies code of conduct. It was said to have deliberately contravened the legal and ethical standards of dispensing medications. I also see that the store in question failed in safeguarding the safety of its customers a serious offence in the line of distributing medications.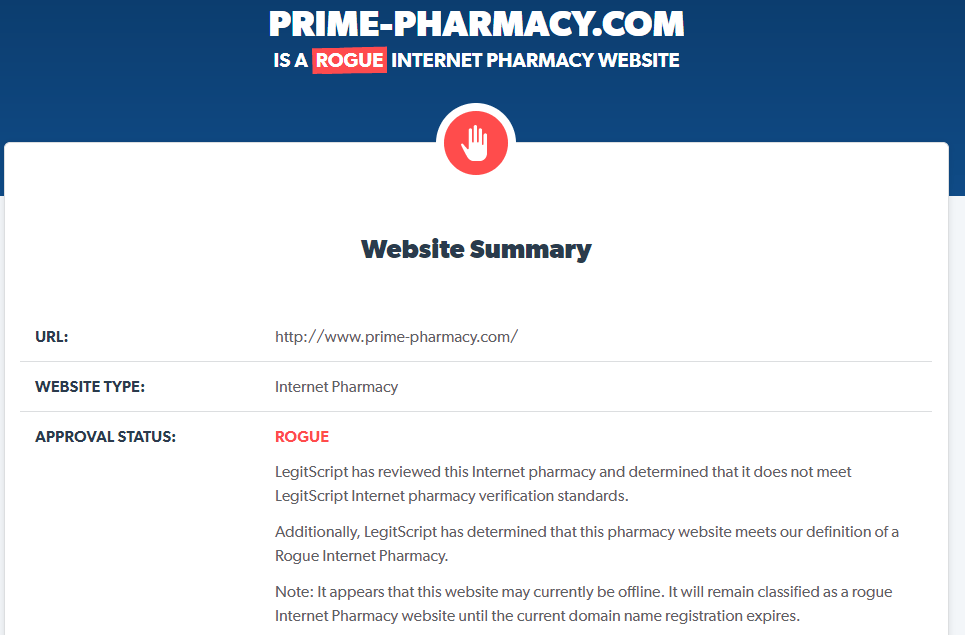 My take is that one ought to be very careful on their choice of medical suppliers as counterfeit drugs can lead to adverse health complications. I call upon the consumers once more to put an end to fraud stars by reporting them to the relevant authorities and boy coating their products.
Prime-pharmacy.com Coupon Codes
I remember viewing a statement on the store's efforts to match up or exceed and promotions put on by their competitors through the provision of low prices. It also claimed to have helped its clients to save money and spend less time in bargaining; however, it lacked to have had coupon codes and discounts. Common to most consumers is the quest to save as much money as possible on lucrative promotions, therefore, opting to purchase from a vendor who has their interests at heart. Preferably I like being offered some extra pills or free transportation services. Some vendors go an extra mile of subtracting a portion from the totals an act that makes their clients feel appreciated. More frustrating is the vendor who promises coupon codes that don't actualize thus gaining at the expense of one's clients.
Conclusion
So many online pharmacies have mushroomed carrying a significant number of frauds behind the virtual shops. These drug stores possess some similar traits that can only be depicted by a sober mind and the help of scam advisers. I have realized that majority of fake stores tend to be in possession of duplicated reviews from its clone websites and lack precise information about their physical locations. They also omit their duration of service or commit to a false one all in the attempt of convincing their prey. What I find worse is the choice of terminating the business without informing its clients. Prime-pharmacy.com has proved to have had the said characteristics, especially that Legitscript.com had declared it to be rogue and fell short of the expected code of conduct. I find it justifying enough to award Prime-pharmacy a 1-star rating out of 5 a rate worth of its incompetence.